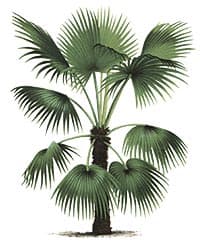 Les Palmiers, Kerchove, Paris 1878
Trithrinax brasiliensis
Mart.
Henderson, A., G. Galeano & R. Bernal 1995.
Field Guide Palms Americas
1–352.
Trithrinax acanthocoma
Drude (Gartenflora 27: 361. 1878)
Modern Botanists include
T.acanthocoma
within
T. brasiliensis
.
Still growing below the chapel as described by Walter Oates in 1929. For many years I overlooked this palm as a Trachycarpus (common throughout the garden). The spines within the fibrous trunk were concealed by ivy. These, along with the palms identity, were revealed in clearing works carried out in late 1990's.
Cette espèce, sans ètre commune, est encore une de celles dont l'habitation est très-étendue. Je l'ai vue sur deux points seulement : près du Rio Parana, un peu au-dessus de la Bajada, c'est-à-dire vers le 31.º degé de latitude sud. Elle croissant isolément au sommet des falaises de Féliciano, au milieu des broussailles, en des lieux très-secs. Comme tous les plants en étaient assez rabougris, je dus croire qu'elle se trouvait aux confins de sa zone d'habitation. Je l'ai retrouvée ensuite vers le 17.º degré de latitude, au sein de la grande forêt
(Monte Grande)
qui sépare santa-Cruz de la Sierra de la province de Chiquitos (Bolivia). Elle croit alors par bouquets et par bois, sur les lieux les plus élevés de l'immense plaine qui sépare le versant de l'Amazon de celui de la Plata. Elle se mêle souvant aux autres arbres, et specialment aux boissons; car je ne l'ai jamais rencontrée au sein de la forêt, quand celle-ci est composée de grands arbres.Ses feuilles, cueillies avant leur épanouissement, servent à tresser des chapeaux assez estimés.Les Espagnols du pays la nomment
Saho
, mot corrompu, sans doute, du nome de
Utsaho
, que lui donnent les Indiens Guarayos de la Bolivia. Les Chiquitos l'appellent dans leur langue,
Huaichick.
Alcide d'Orbigny
Voyage dans l'Amérique Méridionale(le Brésil, la république orientale de l'Uruguay, la République argentine, la Patagonie, la république du Chili, la république de Bolivia, la république du Pérou), exécuté pendant les années 1826, 1827, 1828, 1829, 1830, 1831, 1832, et 1833,V.e Levrault, 1835-47.
Vol. 7 pt. 3, p. 44
., Paris, Pitois-Levrault et c.e; Strasbourg,
1835-47